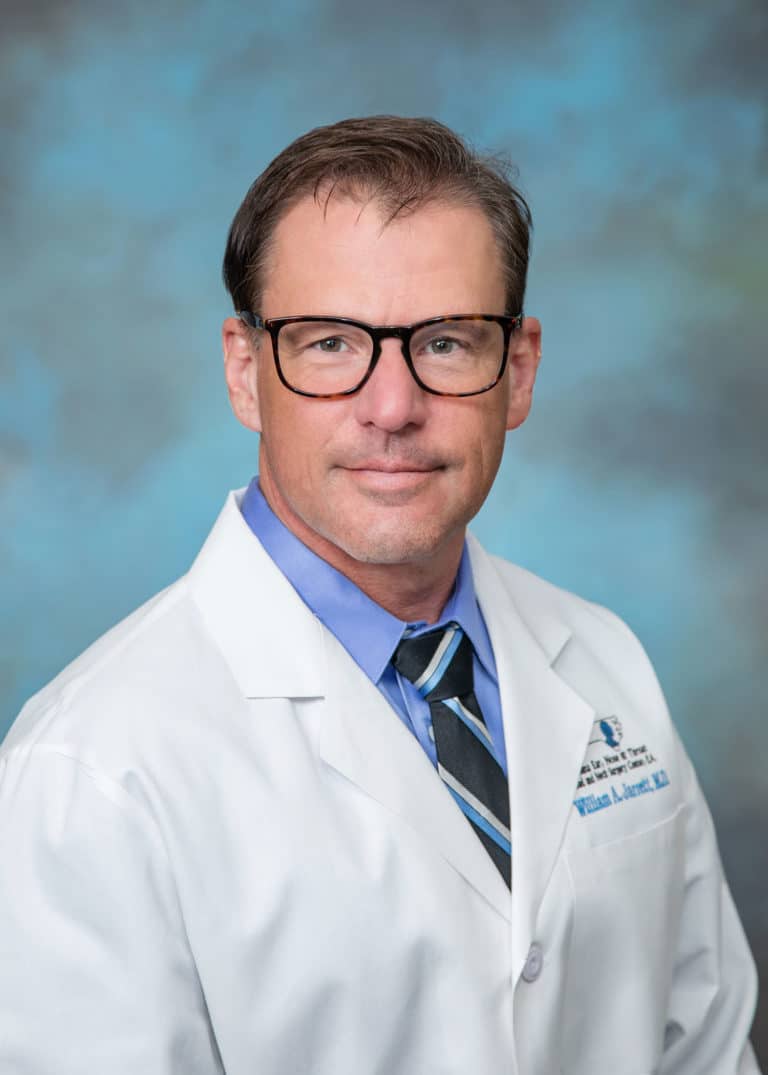 Bill Jarrett
MD, FACS, FAAOA
Dr. William Jarrett is a member of the medical staff at Frye Regional Medical Center, Catawba Memorial Hospital and Viewmont Surgery Center.
He graduated from University of Kentucky and has been in private practice since 2001.
He is Board Certified by the American Academy of Otolaryngology- Head and Neck Surgery and a Fellow of the American College of Surgeons His special interests are in the medical and surgical treatment of thyroid disorders as well as facial skin cancers
He is a native of Hickory, NC. He attended UNC-Charlotte where he earned degrees in Chemistry and Biology. His medical degree is from East Carolina University. He completed his Otlaryngology-Head and Neck Surgery residency at the University of Kentucky.
Dr. Jarrett is actively pursuing his fellowship in Otolaryngic Allergy.
Awards, Honors & Recognition
CMS Meaningful Use Stage 1 Certification Allscripts Professional EHR, Allscripts, 2013
Fellow (FACS) American College of Surgeons
Publications & Presentations
What can we do in our locality to acquaint the public with the service pharmacy renders? Jarrett, W.A.Am J Pharm Educ 2011 Apr 11
Endoscopic sinus surgery in cystic fibrosis: effects on pulmonary function and ideal body weight. Jarrett, W.A., Militsakh, O., Anstad, M., Manaligod, J. Ear Nose Throat J 2004 Feb
Biofilm formation on tracheostomy tubes. Jarrett, W.A., Ribes, J., Manaligod, J.M. Ear Nose Throat J 2002 Sept
NADPH-diaphorase-positive neurons innervating the rat ovary. Jarrett, W.A., Price, G.T., Lynn, V.J., Burden, H.W. Neurosci Lett 1994 Aug 15