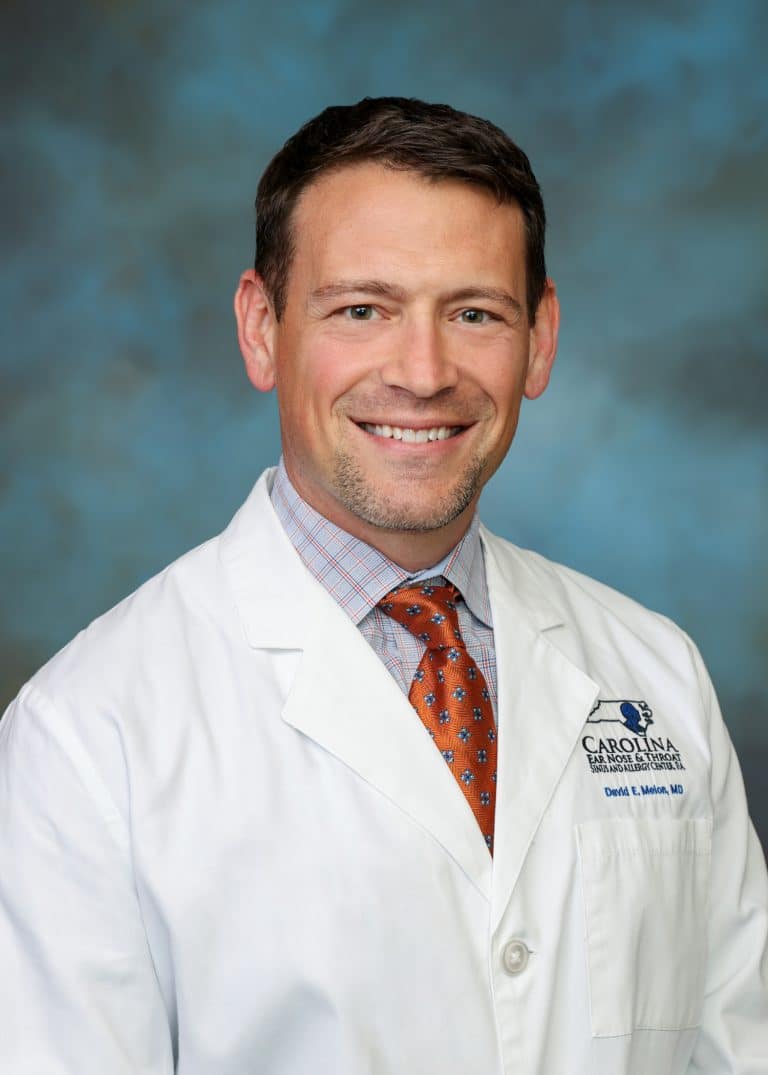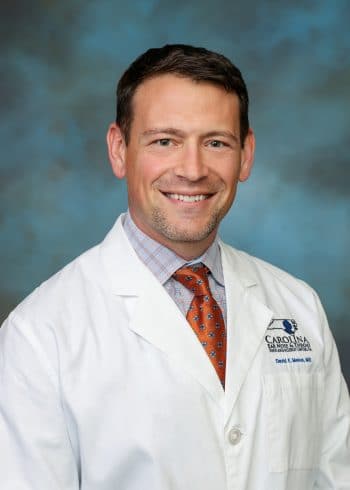 David E. Melon
MD, FACS
Dr. David Melon serves as the president and CEO of Carolina ENT Sinus and Allergy Center. Under his leadership as chairman of the Board of Viewmont Surgery Center, a position he has held since 2015, a strategic alignment joint venture partnership with both Frye Regional Medical Center and Catawba Valley Medical Center was developed. This partnership extended the commitment to providing cost-effective ambulatory surgery options to patients in the Unifour region.
Dr. Melon previously served as the co-director of audiologic and hearing aid services within Carolina ENT and was integral in establishing Carolina ENT/HNSC as a Neonatal Hearing Loss Testing Center.
Board-certified in otolaryngology/head and neck surgery, he received his undergraduate degree in cognitive science from the University of Virginia and attended medical school at Rutgers Robert Wood Johnson Medical School. He completed his ear, nose, and throat residency training at the Department of Otolaryngology at the Ohio State Medical Center. He is a member of the Academy of Otolaryngology-Head and Neck Surgery and the American Thyroid Association and is a Fellow of the American College of Surgeons. He is the president of the Catawba Valley Medical Society, President of the North Carolina Society of Otolaryngology-Head and Neck Surgery and was named to the North Carolina Medical Society's Legislative Cabinet in 2022.
In 2023, he was elected chairman of the inaugural Otolaryngology Private Practice Section through the Academy of Otolaryngology with a focus on leadership development, recruitment, advocacy, practice management and business viability support.
Dr. Melon is a vocal advocate for the local surgical community and the state of North Carolina and has served as the Young Fellows Representative of the North Carolina Chapter of the American College of Surgeons. His true passion in medicine is optimizing the patient experience. In 2022, he authored a chapter in Essential Healthcare Economics: The Patient Experience, A Starting Point for Better Healthcare.
Publications:
Perceptions of Electronic Health Records Within Otolaryngology Residents Compared to Practicing Otolaryngologists. Harrill PA1, Melon DE2, Seshul MJ2,3, Zanation A1. Laryngoscope. 2018 Dec;128(12):2726-2731
Contemporary analysis of practicing otolaryngologists. Harrill WC, Melon DE, Seshul MJ, Katz MS, Zanation AM. Laryngoscope. 2018 Nov;128(11):2490-2499.
Illuminating protein interactions in tissue using confocal and two-photon excitation fluorescent resonance energy transfer microscopy. Mills, J.D., Stone, J.R., Rubin, D.G., Melon, D.E., Okonkwo, D.O., Periasamy, A., Helm, G.A. J Biomed Opt 2003 Jul
Dose-response of cyclosporin A in attenuating traumatic axonal injury in rat. Okonkwo, D.O., Melon, D.E., Pellicane, A. J., Mutlu, L.K., Rubin, D.G., Stone, J.R., Helm, G. A. Neuroreport 2003 Mar 3Trans-sodium crocetinate increases oxygen delivery to brain parenchyma in rats on oxygen supplementation. Okonkwo, D.O., Wagner, J., Melon, D.E., Alden, T., Stone, J.R., Helm, G.A., Jane, J. A. Neurosci Lett 2003 Dec 4