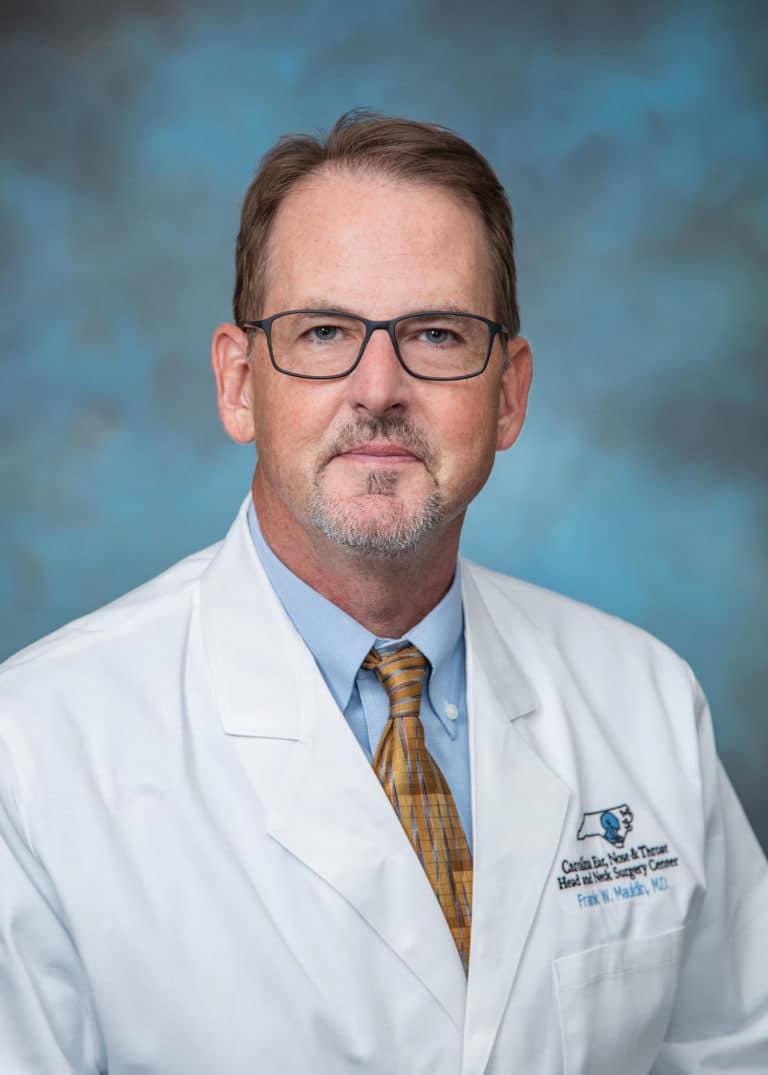 Frank Mauldin
MD, FACS
Retired 2022
Dr. Frank Mauldin retired on December 31, 2022. Learn More
Dr. Frank Mauldin is a member of the medical staff at Frye Regional Medical Center, Catawba Valley Medical Center and Viewmont Surgery Center.
He is Board Certified by the American Academy of Otolaryngology and also a Fellow of the American College of Surgeons. He also holds membership in the North Carolina Medical Society, the North Carolina Society of Otolaryngology and the American Academy of Otolaryngology- Head and Neck Surgery and the American Thyroid association.
Dr. Mauldin received his medical degree at the University of Mississippi. He did his surgical residency at Roanoke Memorial Hospital and his otolaryngology residency at the University of Alabama at Birmingham.
He served in the Air Force as an Otolaryngologist from 1991 to 1993 and was with Graystone Ear Nose and Throat from 1993 to 2010.
Dr. Mauldin has served in numerous positions in the Medical Staff at both Frye Regional Medical Center and Catawba Valley Medical Center. He was Chief of Staff at Catawba Valley Medical Center in 2003.
Awards, Honors & Recognition
CMS Meaningful Use Stage 1 Certification Allscripts Professional EHR, Allscripts, 2013
Fellow (FACS) American College of Surgeons
Fellow (FAAO-HNS) American Academy of Otolaryngology – Head and Neck Surgery
Publications & Presentations
Monitored steady-state excitation and recovery (MSSER) radiation force imaging using viscoelastic models. Mauldin, F.W., Haider, M.A., Loboa, E.G., Behler, R.H., Euliss, L.E., Pfeiler, T.W., Gallippi, C.M. IEEE Trans Ultrason Ferroelectr Freq Control 2008 Nov 07
Severe epistaxis from a false aneurysm of the external carotid artery. Mauldin, F.W., cornay, W.J., Mahaley, M.S., Hicks, J.N. Otolaryngol Head Neck Surg 1989 Nov