When someone you love has hearing loss, dining out can be stressful. Restaurants are one of the most difficult listening environments, even for people who aren't hearing-impaired, thanks to live music, surrounding conversation and clamoring dishes. Fortunately, there are strategies that can help you prepare for your night out:
Find an environment for easier hearing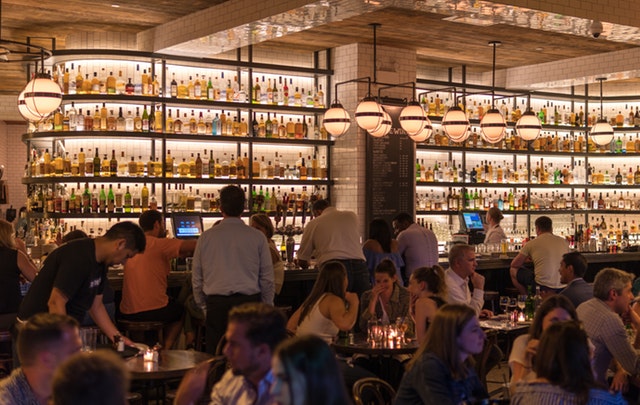 You probably already browse Yelp to find new restaurants to try in your area. There are also apps available specifically to help you find restaurants with a low dB output, two of which are called Soundprint and iHEARu. These crowdsourcing apps feature loudness ratings for many popular restaurants.
The more open the concept, the louder the room
When researching restaurants, also consider how décor can help or hinder your date's ability to follow the conversation. Open floor plans and spaces with lots of concrete, wood or glass will cause sound to reverberate, which may cause additional distractions. Décor with drapes, cushioned seats and fabric tablecloths will absorb sound and make listening easier. Many venues have photos on their websites.
Avoid Busy Hours
Busy hours mean fuller restaurants and more noise. Consider dining out during less popular times like during weekdays and before or after dinner rush. During slow hours, there will be more available tables to choose from, and staff will be more likely to accommodate requests like turning down the music.
Request Your Preferred Seating Arrangement
When you sit at a table in the center of a restaurant, it may be especially difficult to hear your conversation partner, even if you don't have hearing loss. For those who are hearing impaired, being surrounded by other tables can make carrying on a conversation almost impossible. When checking in with the host or hostess, request a table in a corner or along a wall. If your date sits with their back to the wall, it should help prevent distractions from sounds behind them. For group dates or family gatherings, see if you can be seated at a round table so everyone is facing and projecting their voices toward the center of the group.
Find out what your date prefers
Your date knows better than anyone else what strategies will help them hear better while dining out. Be sure to ask what their needs are and don't be afraid to advocate for them. The staff will be more than happy to help make your dining experience as enjoyable as possible!
To learn more communication tips, contact Carolina Ear, Nose, Throat, Sinus & Allergy today.
Learn more about these hearing disorders: